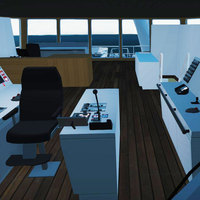 Pilot for 3-D
We are in the final stages of completing our MarineView Software, a 3-D interactive technology both for vessel operations as well as for the familiarization and training of crew members.
MarineView provides vessel layout familiarization; emergency duties and drills; hazard assessments; training and equipment operations, including start-up procedures; and the location and use of life saving and fire fighting appliances.
MarineView's mixture reality software utilizes both virtual reality (VR) and augment reality (AR) to provide both visually rich access to extensive information supporting vessel operations.