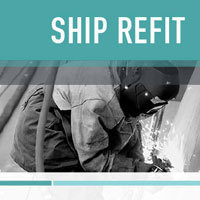 Ship Refit Employee Orientation Training Program
Seashore Consultants Ltd. is currently in the process of developing an Employee Orientation Training Program for regional, national and international Ship Refit and Shipbuilding Facilities.
Onsite classroom/webinars education sessions, in conjunction with valuable, hands-on mentoring will be provided by Seashore & MIR's industry experts. The training will provide all levels of the facility's employees with a thorough understanding of the ship refit & ship building industry. A wide array of topics associated with each job classification will be focused on to ensure employees are equipped with the knowledge they require to complete their duties as effectively, efficiently and safely as possible.